Blog Home
Monthly Updates & Upcoming Events (June)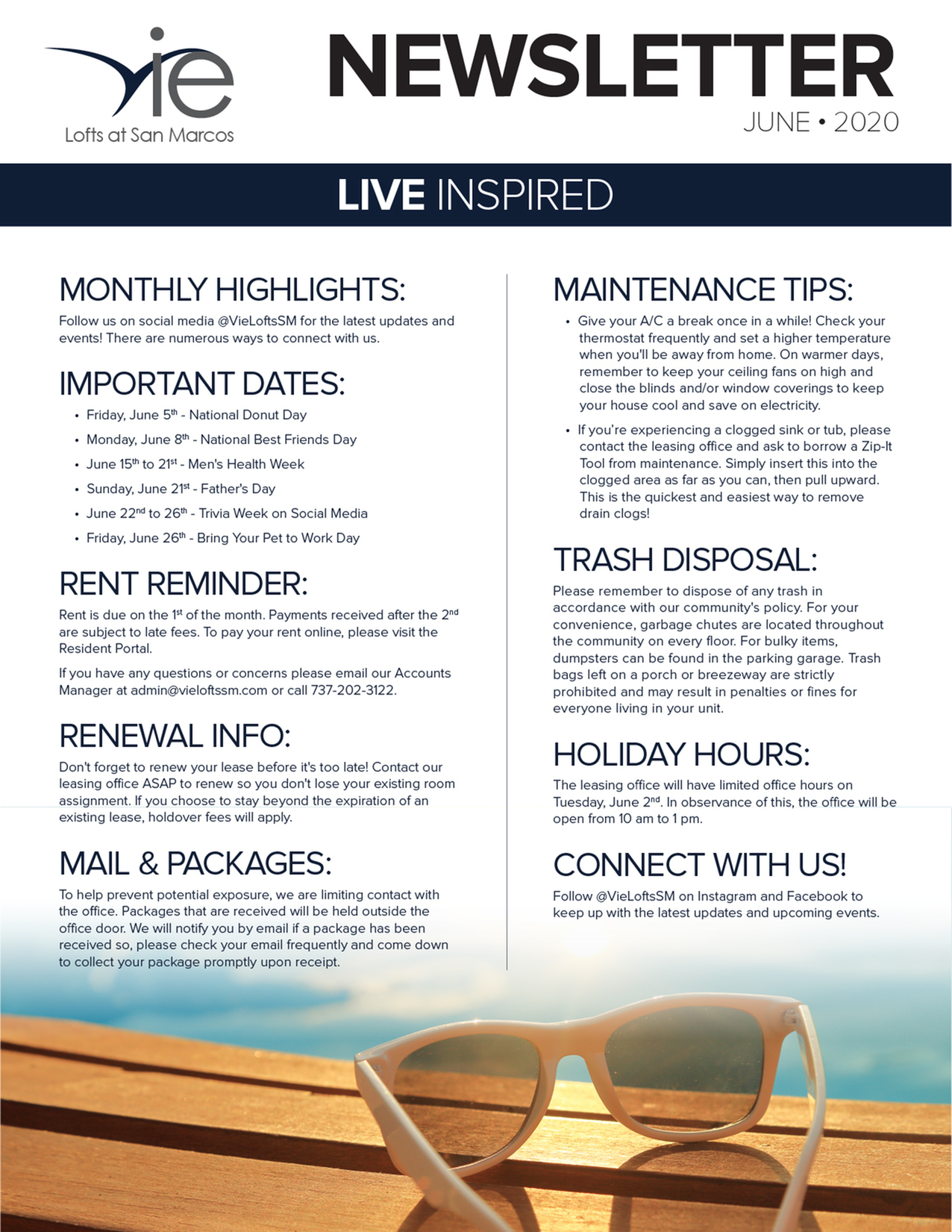 Monthly Highlights:
Follow us on social media
@VieLoftsSM
for the latest updates and events! There are numerous ways to connect with us.
Important Dates:
Friday, June 5th - National Donut Day
Monday, June 8th - National Best Friends Day
June 15th to 21st - Men's Health Week
Sunday, June 21st - Father's Day
June 22nd to 26th - Trivia Week on Social Media
Friday, June 26th - Bring Your Pet to Work Day
Rent Reminder:
Rent is due on the 1st of the month. Payments received after the 2nd are subject to late fees. To pay your rent online, please visit the Resident Portal.
If you have any questions or concerns please email our Accounts Manager at admin@vieloftssm.com or call 737-202-3122.
Renewal Info:
Don't forget to renew your lease before it's too late! Contact our leasing office ASAP to renew so you don't lose your existing room assignment. If you choose to stay beyond the expiration of an existing lease, holdover fees will apply.
Mail & Packages:
To help prevent potential exposure, we are limiting contact with the office. Packages that are received will be held outside the office door. We will notify you by email if a package has been received so, please check your email frequently and come down to collect your package promptly upon receipt.
Maintenance Tips:
Give your A/C a break once in a while! Check your thermostat frequently and set a higher temperature when you'll be away from home. On warmer days, remember to keep your ceiling fans on high and close the blinds and/or window coverings to keep your house cool and save on electricity.
If you're experiencing a clogged sink or tub, please contact the leasing office and ask to borrow a Zip-It Tool from maintenance. Simply insert this into the clogged area as far as you can, then pull upward. This is the quickest and easiest way to remove drain clogs!
Trash Disposal:
Please remember to dispose of any trash in accordance with our community's policy. For your convenience, garbage chutes are located throughout the community on every floor. For bulky items, dumpsters can be found in the parking garage. Trash bags left on a porch or breezeway are strictly prohibited and may result in penalties or fines for everyone living in your unit.
Holiday Hours:
The leasing office will have limited office hours on Tuesday, June 2nd. In observance of this, the office will be open from 10 am to 1 pm.
Connect With Us!
Follow @VieLoftsSM on Instagram and Facebook to keep up with the latest updates and upcoming events.