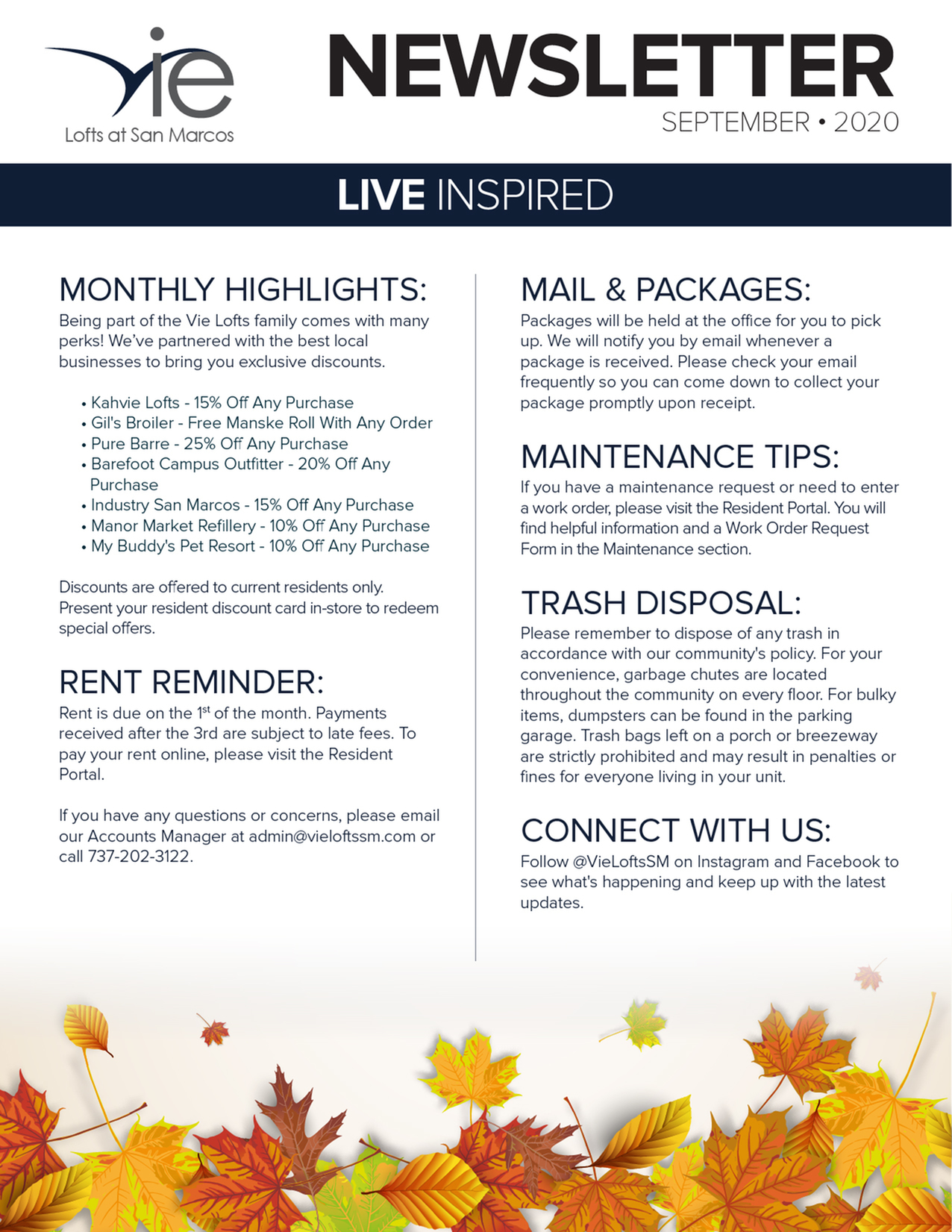 Monthly Highlights:
Being part of the Vie Lofts family comes with many perks! We've partnered with the best local businesses to bring you exclusive discounts.
Kahvie Lofts - 15% Off Any Purchase

Gil's Broiler - Free Manske Roll With Any Order

Pure Barre - 25% Off Any Purchase

Barefoot Campus Outfitter - 20% Off Any Purchase

Industry San Marcos - 15% Off Any Purchase

Manor Market Refillery - 10% Off Any Purchase

My Buddy's Pet Resort - 10% Off Any Purchase
Discounts are offered to current residents only. Present your resident discount card in-store to redeem special offers.
Rent Reminder:
Rent is due on the 1st of the month. Payments received after the 3rd are subject to late fees. To pay your rent online, please visit the Resident Portal.
If you have any questions or concerns, please email our Accounts Manager at
admin@vieloftssm.com
or call 737-202-3122.
Mail & Packages:
Packages will be held at the office for you to pick up. We will notify you by email whenever a package is received. Please check your email frequently so you can come down to collect your package promptly upon receipt.
Maintenance Tips:
If you have a maintenance request or need to enter a work order, please visit the Resident Portal. You will find helpful information and a Work Order Request Form in the Maintenance section.
Trash Disposal:
Please remember to dispose of any trash in accordance with our community's policy. For your convenience, garbage chutes are located throughout the community on every floor. For bulky items, dumpsters can be found in the parking garage. Trash bags left on a porch or breezeway are strictly prohibited and may result in penalties or fines for everyone living in your unit.
Connect With Us!
Follow @VieLoftsSM on Instagram and Facebook to see what's happening and keep up with the latest updates.