Blog Home
Monthly Updates & Upcoming Events (November)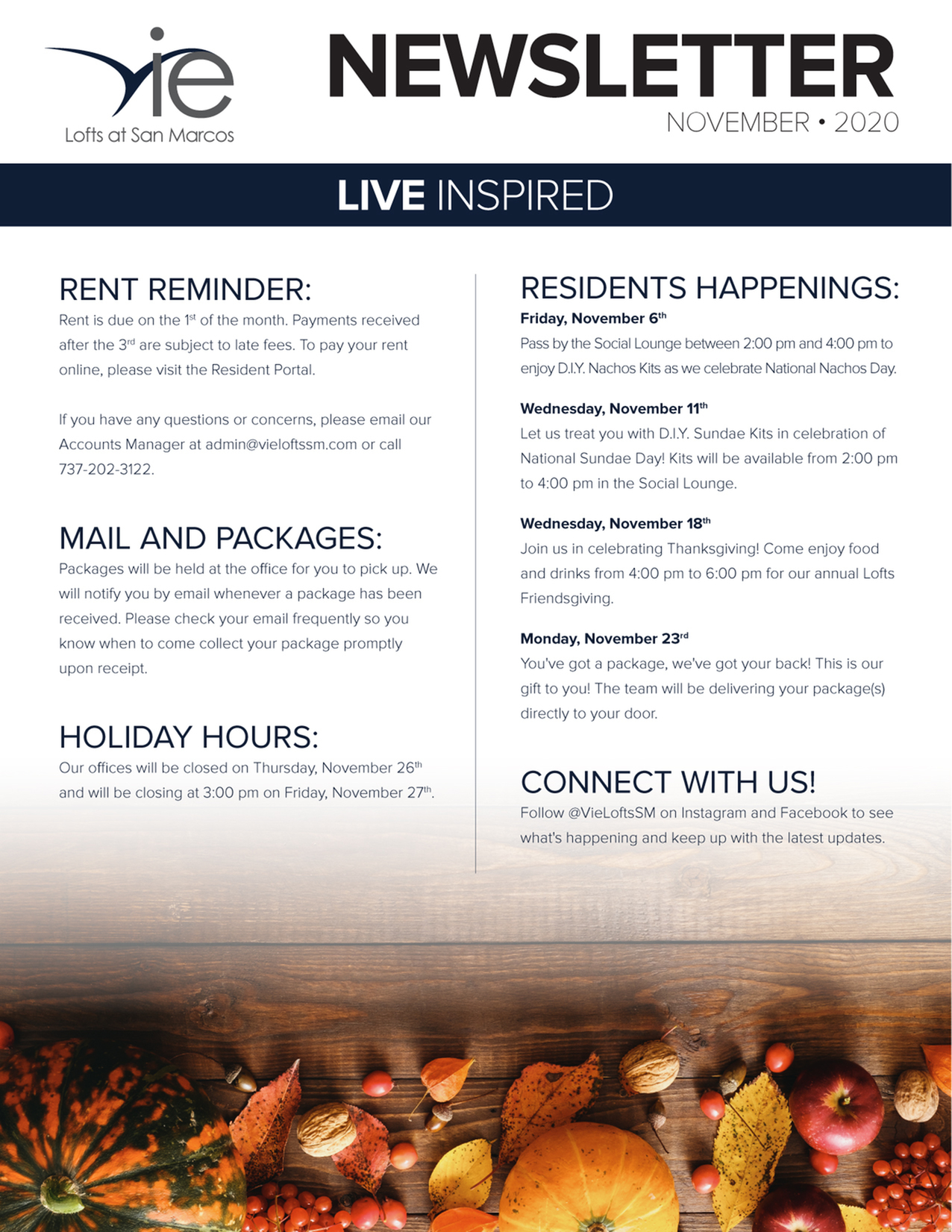 RENT REMINDER:
Rent is due on the 1st of the month. Payments received after the 3rd are subject to late fees. To pay your rent online, please visit the Resident Portal.

If you have any questions or concerns, please email our Accounts Manager at admin@vieloftssm.com or call 737-202-3122.

MAIL AND PACKAGES:
Packages will be held at the office for you to pick up. We will notify you by email whenever a package has been received. Please check your email frequently so you know when to come collect your package promptly upon receipt.

HOLIDAY HOURS:
Our offices will be closed on Thursday, November 26th and will be closing at 3:00 pm on Friday, November 27th.

RESIDENTS HAPPENINGS:
Friday, November 6th
Pass by the Social Lounge between 2:00 pm and 4:00 pm to enjoy D.I.Y. Nachos Kits as we celebrate National Nachos Day.

Wednesday, November 11th
Let us treat you with D.I.Y. Sundae Kits in celebration of National Sundae Day! Kits will be available from 2:00 pm to 4:00 pm in the Social Lounge.

Wednesday, November 18th
Join us in celebrating Thanksgiving! Come enjoy food and drinks from 4:00 pm to 6:00 pm for our annual Lofts Friendsgiving.

Monday, November 23rd
You've got a package, we've got your back! This is our gift to you! The team will be delivering your package(s) directly to your door.

Connect With Us!
Follow @VieLoftsSM on Instagram and Facebook to see what's happening and keep up with the latest updates.