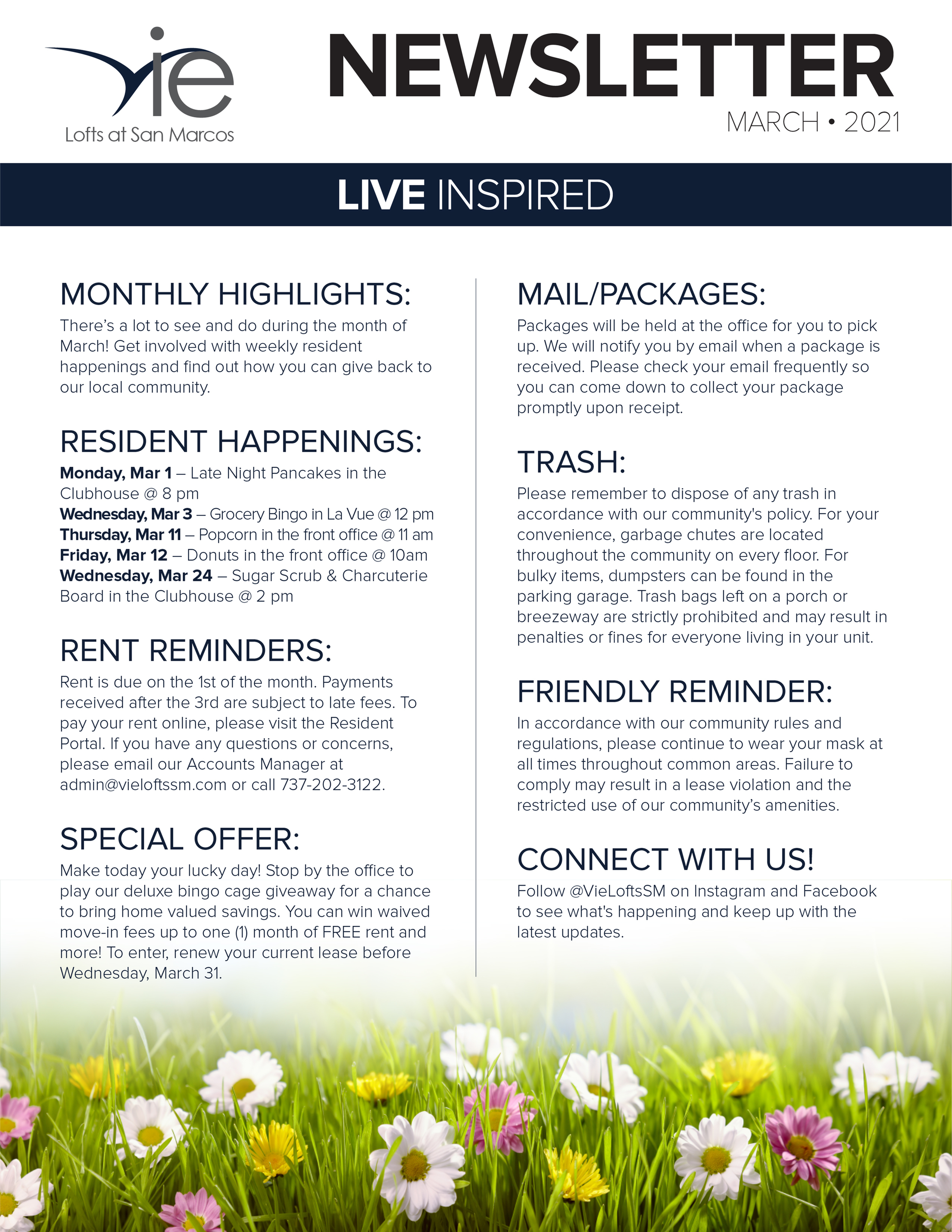 MONTHLY HIGHLIGHTS:
There's a lot to see and do during the month of March! Get involved with weekly resident happenings and find out how you can give back to our local community.
RESIDENT HAPPENINGS:
Monday, Mar 1 – Late Night Pancakes in the Clubhouse @ 8 pm
Wednesday, Mar 3 – Grocery Bingo in La Vue @ 12 pm
Thursday, Mar 11 – Popcorn in the front office @ 11 am
Friday, Mar 12 – Donuts in the front office @ 10am
Wednesday, Mar 24 – Sugar Scrub & Charcuterie Board in the Clubhouse @ 2 pm

RENT REMINDERS:
Rent is due on the 1st of the month. Payments received after the 3rd are subject to late fees. To pay your rent online, please visit the Resident Portal. If you have any questions or concerns, please email our Accounts Manager at admin@vieloftssm.com or call 737-202-3122.

SPECIAL OFFER:
Make today your lucky day! Stop by the office to play our deluxe bingo cage giveaway for a chance to bring home valued savings. You can win waived move-in fees up to one (1) month of FREE rent and more! To enter, renew your current lease before Wednesday, March 31.

MAIL/PACKAGES:
Packages will be held at the office for you to pick up. We will notify you by email when a package is received. Please check your email frequently so you can come down to collect your package promptly upon receipt.
TRASH:
Please remember to dispose of any trash in accordance with our community's policy. For your convenience, garbage chutes are located throughout the community on every floor. For bulky items, dumpsters can be found in the parking garage. Trash bags left on a porch or breezeway are strictly prohibited and may result in penalties or fines for everyone living in your unit.

FRIENDLY REMINDER:
In accordance with our community rules and regulations, please continue to wear your mask at all times throughout common areas. Failure to comply may result in a lease violation and the restricted use of our community's amenities.
Connect With Us!
Follow @VieLoftsSM on Instagram and Facebook to see what's happening and keep up with the latest updates.