Blog Home
Monthly Updates & Upcoming Events (July)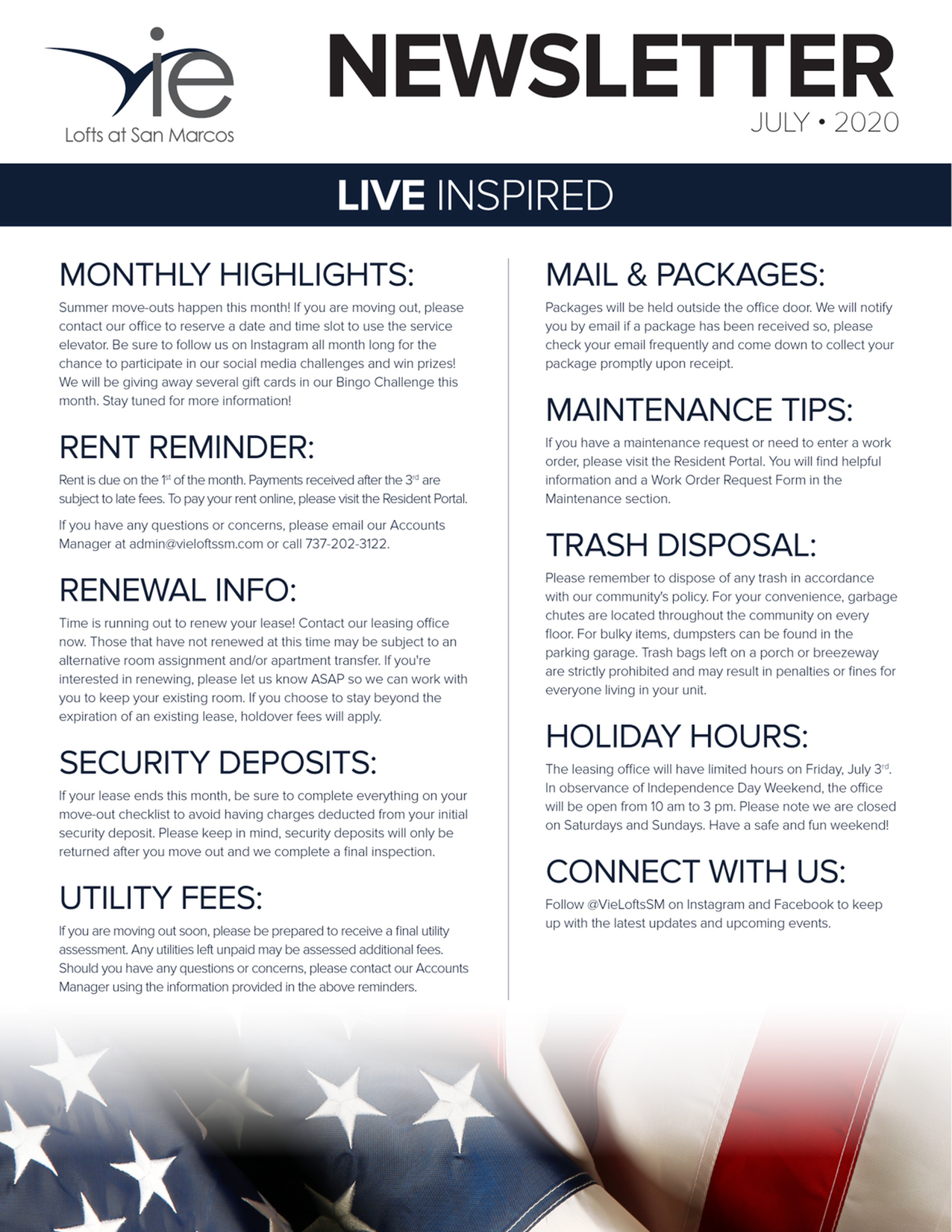 Monthly Highlights:
Summer move-outs happen this month! If you are moving out, please contact our office to reserve a date and time slot to use the service elevator. Be sure to follow us on Instagram all month long for the chance to participate in our social media challenges and win prizes! We will be giving away several gift cards in our Bingo Challenge this month. Stay tuned for more information!
Rent Reminder:
Rent is due on the 1st of the month. Payments received after the 3rd are subject to late fees. To pay your rent online, please visit the Resident Portal.
If you have any questions or concerns, please email our Accounts Manager at
Admin@vieloftssm.com
or call 737-202-3122.
Renewal Info:
Time is running out to renew your lease! Contact our leasing office now. Those that have not renewed at this time may be subject to an alternative room assignment and/or apartment transfer. If you're interested in renewing, please let us know ASAP so we can work with you to keep your existing room. If you choose to stay beyond the expiration of an existing lease, holdover fees will apply.
Security Deposits:
If your lease ends this month, be sure to complete everything on your move-out checklist to avoid having charges deducted from your initial security deposit. Please keep in mind, security deposits will only be returned after you move out and we complete a final inspection.
Utility Fees:
If you are moving out soon, please be prepared to receive a final utility assessment. Any utilities left unpaid may be assessed additional fees. Should you have any questions or concerns, please contact our Accounts Manager using the information provided in the above reminders.
Mail & Packages:
Packages will be held outside the office door. We will notify you by email if a package has been received so, please check your email frequently and come down to collect your package promptly upon receipt.
Maintenance Tips:
If you have a maintenance request or need to enter a work order, please visit the Resident Portal. You will find helpful information and a Work Order Request Form in the Maintenance section.
Trash Disposal:
Please remember to dispose of any trash in accordance with our community's policy. For your convenience, garbage chutes are located throughout the community on every floor. For bulky items, dumpsters can be found in the parking garage. Trash bags left on a porch or breezeway are strictly prohibited and may result in penalties or fines for everyone living in your unit.
Holiday Hours:
The leasing office will have limited hours on Friday, July 3rd. In observance of Independence Day Weekend, the office will be open from 10 am to 3 pm. Please note we are closed on Saturdays and Sundays. Have a safe and fun weekend!
Connect With Us!
Follow @VieLoftsSM on Instagram and Facebook to keep up with the latest updates and upcoming events.