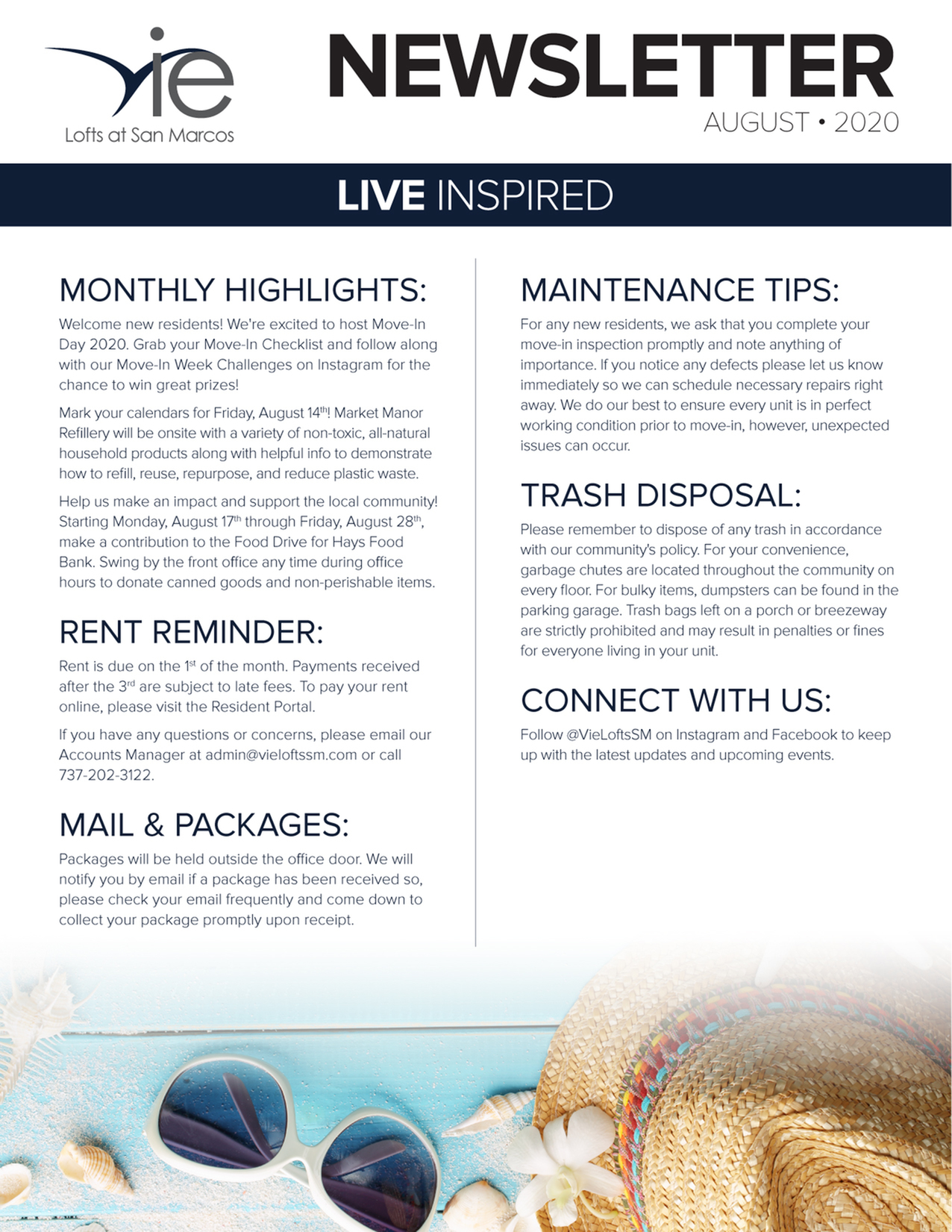 Monthly Highlights:
Welcome new residents! We're excited to host Move-In Day 2020. Grab your Move-In Checklist and follow along with our Move-In Week Challenges on Instagram for the chance to win great prizes!
Mark your calendars for Friday, August 14th! Market Manor Refillery will be onsite with a variety of non-toxic, all-natural household products along with helpful info to demonstrate how to refill, reuse, repurpose, and reduce plastic waste.
Help us make an impact and support the local community! Starting Monday, August 17th through Friday, August 28th, make a contribution to the Food Drive for Hays Food Bank. Swing by the front office any time during office hours to donate canned goods and non-perishable items.
Rent Reminder:
Rent is due on the 1st of the month. Payments received after the 3rd are subject to late fees. To pay your rent online, please visit the Resident Portal.
If you have any questions or concerns, please email our Accounts Manager at
admin@vieloftssm.com
or call 737-202-3122.
Mail & Packages:
Packages will be held outside the office door. We will notify you by email if a package has been received so, please check your email frequently and come down to collect your package promptly upon receipt.
Maintenance Tips:
For any new residents, we ask that you complete your move-in inspection promptly and note anything of importance. If you notice any defects please let us know immediately so we can schedule necessary repairs right away. We do our best to ensure every unit is in perfect working condition prior to move-in, however, unexpected issues can occur.
Trash Disposal:
Please remember to dispose of any trash in accordance with our community's policy. For your convenience, garbage chutes are located throughout the community on every floor. For bulky items, dumpsters can be found in the parking garage. Trash bags left on a porch or breezeway are strictly prohibited and may result in penalties or fines for everyone living in your unit.
Connect With Us!
Follow
@VieLoftsSM
on Instagram and Facebook to keep up with the latest updates and upcoming events.