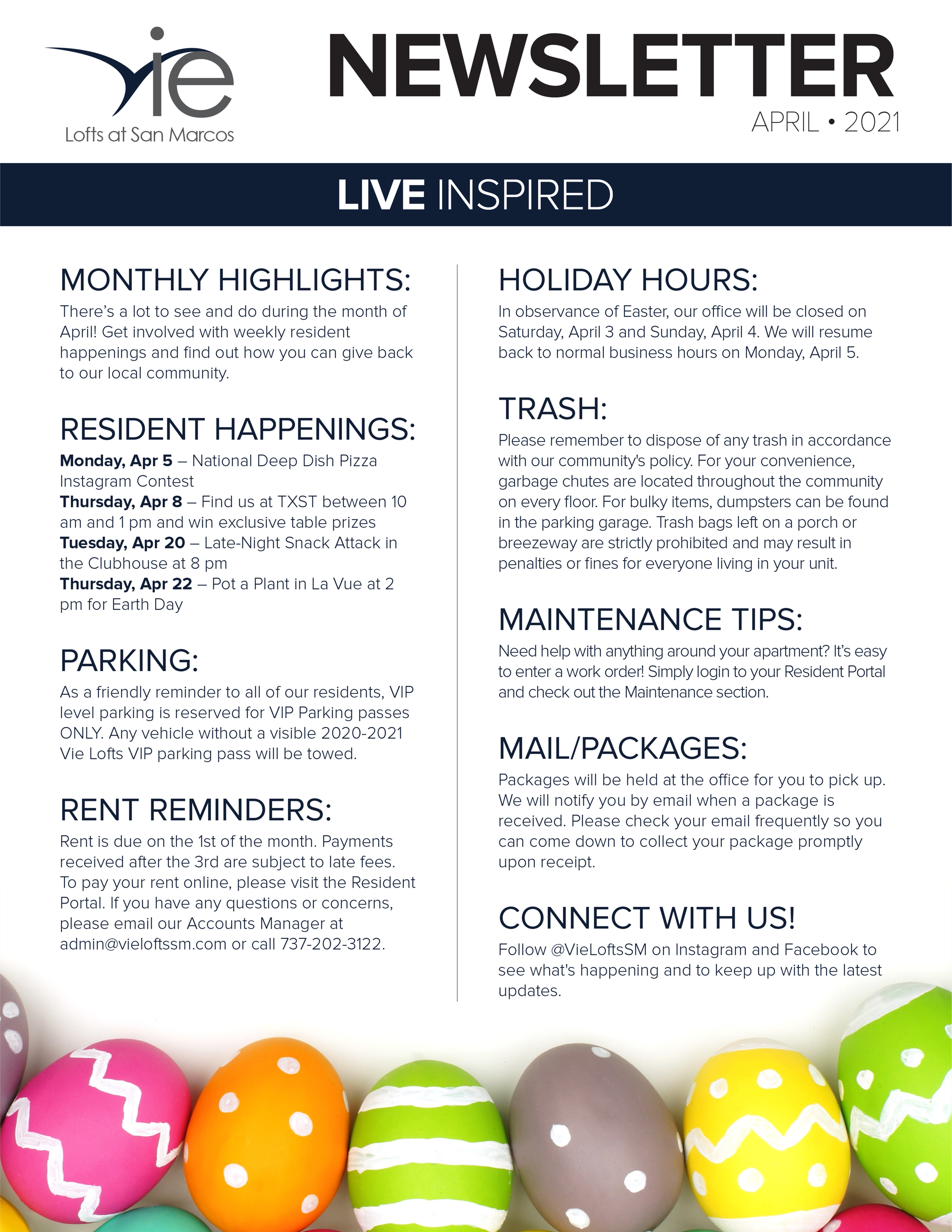 MONTHLY HIGHLIGHTS:
There's a lot to see and do during the month of April! Get involved with weekly resident happenings and find out how you can give back to our local community.
RESIDENT EVENTS:
Monday, Apr 5 – National Deep Dish Pizza Instagram Contest
Thursday, Apr 8 – Find us at TXST between 10 am and 1 pm and win exclusive table prizes
Tuesday, Apr 20 – Late-Night Snack Attack in the Clubhouse at 8 pm
Thursday, Apr 22 – Pot a Plant in La Vue at 2 pm for Earth Day
PARKING:
As a friendly reminder to all of our residents, VIP level parking is reserved for VIP Parking passes ONLY. Any vehicle without a visible 2020-2021 Vie Lofts VIP parking pass will be towed.

RENT REMINDERS:
Rent is due on the 1st of the month. Payments received after the 3rd are subject to late fees. To pay your rent online, please visit the Resident Portal. If you have any questions or concerns, please email our Accounts Manager at admin@vieloftssm.com or call 737-202-3122.
HOLIDAY HOURS:
In observance of Easter, our office will be closed on Saturday, April 3 and Sunday, April 4. We will resume back to normal business hours on Monday, April 5.

TRASH:
Please remember to dispose of any trash in accordance with our community's policy. For your convenience, garbage chutes are located throughout the community on every floor. For bulky items, dumpsters can be found in the parking garage. Trash bags left on a porch or breezeway are strictly prohibited and may result in penalties or fines for everyone living in your unit.

MAINTENANCE TIPS:
Need help with anything around your apartment? It's easy to enter a work order! Simply login to your Resident Portal and check out the Maintenance section.

MAIL/PACKAGES:
Packages will be held at the office for you to pick up. We will notify you by email when a package is received. Please check your email frequently so you can come down to collect your package promptly upon receipt.

Connect With Us!
Follow @VieLoftsSM on Instagram and Facebook to see what's happening and to keep up with the latest updates.